Injustice in Society;
How it still lives today
After reading the television play 12 Angry Men written by Reginald Rose in 1954, I realized how little times have changed since then. The play shows racial injustice in an American courtroom which still exist in many parts of our country and not only in the courtrooms but in our streets as well. It's discouraging to see how one of the most influential works of America regarding racial injustice in our legal system is still so relevant today. The jurors referred to people of color as "them" or "those people" as if we weren't real people. A majority of jurors even agreed to saying that the young African-American boy was guilty of the crime not only because the color of his skin but because of the stereotypes that were set up for African-American people. An today all people of color face this discrimination of being looked at as the stereotypes that are given to them. In today's Ted Talks, human rights lawyer Bryan Stevenson discusses some of the cold truths about America's justice system. Mr. Stevenson states "That when we create the right kind of identity we can say things to the world around us that they don't actually believe". This is just another way of saying that the way you present yourself affects the way people treat you. This has some truth to it in the sense that "you have to look the part to get the part" but it's sad that we can't respect one another if that person look, or talks a different way then us. Stevenson also states " In urban areas such as Los Angeles, Philadelphia, Baltimore, Washington 50-60% of young men of color are in prison". This shows that a majority of the people in prison are colored and come from cities that are know for having high crime rates. It in fact isn't the fault of those young men per-say but the fault of our government for not helping the minorities succeed in areas where the chances of succeeding are dim. So we can't keeping living in this false reality that no one struggles with putting food on their table and just because those people who do, may or may not have similar characteristics does not mean we get to categorize them. Overall if people share simialar characteristics of those we were told to be scared of or stay away from does not give us any right to treat them with less respect then we would treat our neighbors.
Powered by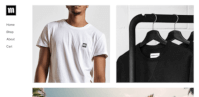 Create your own unique website with customizable templates.