How you deal with your worst moments defines you.
In this TedTalks, writer Andrew Solomon discusses how the worst moments in our lives make us who we are. In the TedTalk he talks about the struggles of people he has met over the years and his own struggles. These tales he tells are sad but in the end everyone has overcome their struggles, and they hold their head up high and feel that these moments made them stronger. I enjoyed this Tedtalk because everyone goes through something they feel they can't overcome and after hearing Mr,Solomon speak and hearing how everyone in his stories managed to make a come back from these difficulties it gives you inspiration. Another reason I choose this TedTalk is because in the book "The Catcher in the Rye" the main character Holden Caulfield is a teenage kid who doesn't quite know who he is or he does and he hides it from himself and everyone around him. When Holden was 13 his little brother Allie passed a way from leukemia, he was only 11. It's obvious that something like this would have a traumatic effect on someone so young. An instead of dealing with this loss, he bottled up his emotions and threw them away. Naturally he began to act out, his grades slipped and he stopped caring for anything really and that's not the sad part. The sad part is seeing the potential in someone and watching someone so young throw it all way. Everyone in this TedTalk survived their struggles and their depression and only came out stronger. When reading "The Catcher in the Rye" you want nothing more but to help Holden and tell him that he can get through this and that his potential is great he just needs to apply himself. An that these moments will only make you who you need to be and hopefully it's someone good.
Powered by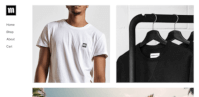 Create your own unique website with customizable templates.